Don Bosco Mission Office:
Don Bosco Missions Office is a Canadian registered charity BN/NE 83428 7468 RR 0001. We receive donations from across Canada and we reach out to Salesian missionaries worldwide in over 130 countries. The Salesian Missionaries are perpetually professed Priests, Brothers and Sisters, who care for the disadvantaged youth in Developing Countries. The missionaries provide education, job training and constructive recreational activities. They help young people achieve intellectual, emotional and spiritual maturity, thus becoming self-sufficient contributing members of society, with Christian values and good social skills. Founded by Saint John Bosco, the missions are guided by reason, religion and kindness. Today, our missions continue to care for the poor children of the world.
Our History:
The Don Bosco Mission Office was founded in 1966 by Father Charles Ceglar, SDB in Sherbrooke, Quebec to help Father John Porter, SDB from Quito Ecuador to assemble Canadian benefactors. In 1967, Father Pierre Décarie, SDB, took over the responsibility of the Mission Office. He personally traveled across Canada to promote and solicit funds for the Salesian missions worldwide. In addition, he initiated the selling of Everlasting gift cards to help support Canadian seminarians. In 1985, Father Maurice Petit, SDB became the director of the Mission Office after the death of Father Décarie. He started to visit Salesian missionaries outside of Canada to build stronger connections and explore new possibilities of helping Developing Countries. In January 2006, under the direction of Father Luc P. Lantagne the Mission Office moved to Montreal, Quebec. This new centralized location is accessible to airports and can easily accommodate International visitors. Presently, the Mission Office continues to receive generous donations from loyal benefactors across Canada and sells Everlasting gift cards to customers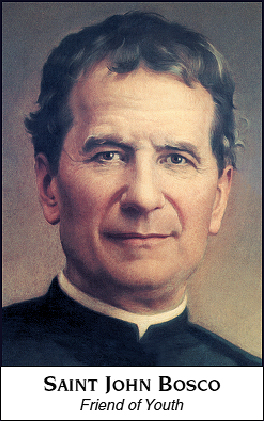 Our founder Saint Jean Bosco born on August 16, 1815, at the early age of nine years old, he had a dream which called him to dedicate his life to the education of poor and disadvantaged young people. Over 150 years ago Don Bosco challenged the way young people were treated in the desperate poverty in the city of Turin, Italy. Driven by first-hand experience of the effects of poverty and hunger on the young people he met. He was determined to change their condition.
His focus was serving the children and he knew that education was the key to helping these young people. He wanted to teach them and advocate for them to get fairer treatment from their employers. He went out to help other young people who slept under bridges and on the streets. Even when they stole from him he never gave up hope. Don Bosco started technical schools to educate the young people in skilled jobs like printing, bookbinding and mechanics. He started the Salesian Missions. He published books and continued his work on his system of education, a style which was immediately recognized; the preventive system as an ideal way to improve educational standards and to get the best from the young by reason, religion, kindness and presence.